A chance to win financial scholarships!
Let's work together to make your tech-based ideas come true.
_VOIS for Tech University Engagement Program invites students to participate in the Vodafone Innovation Marathon 2022, a platform for technology innovators to build solutions using Data Analytics, Artificial Intelligence, Machine Learning, Cloud Computing, Cyber Security, etc.

Innovation Marathon aims to bring the young innovators together to work towards the creation of tech solutions to amplify social good. Innovation Marathon brings an opportunity for the students to enable them to hone their technical and entrepreneurial skills. The marathon encourages collaboration between the student teams and industry experts to create cutting-edge entrepreneurial solutions.

We are here to make your ideas fly high!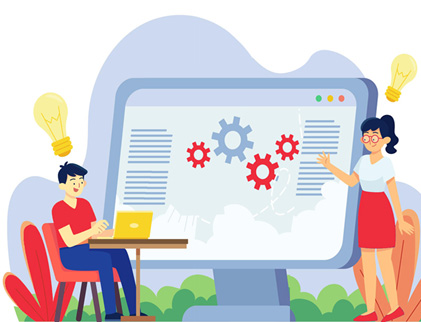 Engineering undergraduate students' team
Students aspire to use IR 4.0 technology to enhance the social good
Passionate to gain hands-on project experience to have a progressive career
Desire for an entrepreneurial career
The top 20 winning teams to receive a financial scholarship from _VOIS
Virtual Micro-Internship Certification opportunity for all the student teams to enhance their professional profiles
3-4 months of mentorship from industry and academia
An opportunity to attend masterclasses and bootcamps
A chance to present your idea prototype to the panel of industry experts in the marathon showcase.
| | |
| --- | --- |
| Project Ideas | Technology |
| 1.Breast Cancer identification | AI/ML |
| 2.Classify foetal health in order to prevent child and maternal mortality. | AI/ML |
| 3.Rice type classification | AI/ML |
| 4.Graduate admissions analysis and prediction. | AI/ML |
| 5.Classification of patients based on the chance of affecting diabetics. | AI/ML |
| 6.Classification of airline passengers based on the general information and feedback provided. | AI/ML |
| 7.Prediction of Insurance amount based on the medical condition of the patient. | AI/ML |
| 8.Classification of Glass type | AI/ML |
| 9.Resume Shortlisting using deep learning. | AI/ML |
| 10.Detection of Tuberculosis | AI/ML |
| 11.Textile defect detection | AI/ML |
| 12.Cyclone Predictions | AI/ML |
| 13.Forest Fire detection | AI/ML |
| 14.Flight Fare Prediction | AI/ML |
| 15. CHATBOT- Career Guidance | AI/ML |
| 16. Brain Tumer Detection using DL | AI/ML |
| 17. Potato Disease Detection | AI/ML |
| 18. Blockchain based Voting System | Block Chain |
| 19. Decentralized Banking system | Block Chain |
| 20. Blockchain-Based Agri-Food Supply Chain | Block Chain |
| 21. Metaverse for shopping | Block Chain |
| 22. Crowd Funding application | Block Chain |
| 23. Hide messages in Image or video | Cyber Security |
| 24. Password less authentication | Cyber Security |
| 25. Network analyser | Cyber Security |
| 26. OSINT based Intrusion detection System | Cyber Security |
| 27. Vulnerability detection system | Cyber Security |
| 28. Create a Smart home automation to control the light using Google Assistant | Cloud Computing |
| 29.Water Level Sensor using Rpi, Ultrasonic sensor and Buzzer | Cloud Computing |
| 30.Cloud based local train ticket booking | Cloud Computing |
| 31.Cloud based attendance system | Cloud Computing |
| 32.Cloud based bus pass system | Cloud Computing |
| 33.Smart traffic management | Cloud Computing |
FAQs on Innovation Marathon